A value stream map is a diagram showing the flow of the material, goods or services and also the supporting information flow. It is typically drawn in a clockwise fashion beginning at the customer in the two o'clock position, backwards through the material and information flow until a complete circle is made from customer request to fulfillment of that request. The current state represents today's reality as observed and documented by people. The whole point of the mapping exercise is to build consensus on the problems and what needs to be done so the organization can take action.


The future state map is created to show us the way to go. There are at least three ways to draw future state value stream maps.
1. The "begin with the end" approach. One way to draw the future state value stream map is to envision the ideal state and work your way back to an interim implementation time line such as 6 or 12 months. While this is fast and powerful, it requires that you have a clear vision of the ideal or "what good looks like" based on a model of process excellence such as TPS. Or if you are really creative and can think outside the box, a flash of insight may deliver the process innovation. Perhaps the greatest risk with this approach is that smart people are good at fooling themselves into thinking they know the answer. They fall in love with their future state and spend less time studying the current state and its flaws when compared to any ideal.
2. The incremental approach. A second way is to systematically identify and eliminate waste from the current state map, and a new "current state" with less waste your future state. This could include bringing processes closer together, reducing error rates or inventories. This is somewhat tactical and moves your towards the ideal condition step by step, unless you stop seeing the waste. This method requires that you get smarter or sharper in your observation as your current state improves over time. Many have bought the books and employed IEs to faithfully apply the tools, only to get stuck at some point because a vision was lacking. Maintaining a strong customer focus and studying lean systems and solutions will help this approach succeed.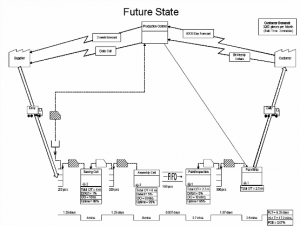 3. The cookbook approach. Ask the "10 questions" for building a future state by applying the lean tools based on a recommended method. The questions vary and the number 10 is arbitrary. The questions typically address takt time / pacemaker, continuous flow, kanban / pull signal / supermarkets, heijunka / leveling, scheduling point, standard work / work balancing, lot size reduction / SMED, build to order vs. build to stock and 3P / product & process design approach. We have seen anywhere from 7 to 12 questions, and in each case the approach tends to be somewhat prescriptive, or fit to the worldview of a particular consultant or leaning organization's lean implementation standard. If this approach is used, it needs to be customized for whatever type of industry or business you are in. Perhaps the biggest weakness is that this approach rarely if ever identifies organizational, leadership or foundational behavior issues that are causing the current state to be as bad as it is.
The zeroth way. Draw no future state map at all. A detailed current state map completed with plenty of data based on go see gathering is better than a premature future state map built around a little education and a lot of excitement. A few change loops defining where to start and what to do next may be just as good as a future state map.

The most important part of value stream mapping is the kaizen activity that follows it, based on the PDCA cycle.