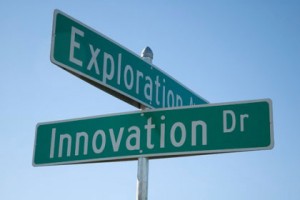 Can Continuous Improvement methodologies such as Lean & Six Sigma help companies innovate?
Or, as some argue, does practicing continuous improvement actually stifle innovation?
I'd argue authentic continuous improvement can most definitely help companies innovate… the key to this statement is "authentic" continuous improvement.
Kill Lean & Six Sigma?
I recently read a Forbes article written by a gentleman named Ron Ashkenas titled, "Why Continuous Improvement May Need To Be Discontinued."
Initially, I figured this was going to be another tired article rambling on about how lean and six sigma are so 1980s… and how the answer to all your problems is to hire Mr. Ashkenas or follow his new methodology.
To be honest, I was pleasantly surprised. You see, while I don't agree with everything Mr. Ashkenas says he does make some good points.
For example, I definitely agree with his point that we should question whether processes should be improved, eliminated, or disrupted.
But, here's the thing I'm not sure Mr. Askenas understands… determining whether processes should be improved, eliminated, or disrupted is at the very heart of what authentic continuous improvement is all about!
If something isn't value added it should be eliminated.  Of course, this is easier said than done… but it's nothing new.
What Problem Are We Trying to Solve?
Now, to be fair, as I've written before, we lean and six sigma practitioners can become enamored with our "tools" if we're not careful. This isn't good.
But, I'd argue, becoming lost inside Minitab or spending hours trying to make that Value Stream Map look just a tad bit prettier isn't authentic continuous improvement at all.
Instead, authentic continuous improvement practitioners are obsessed with two questions.
1. What problem are we trying to solve?
2. How can I add more value to my customers (current & future)
The tools of lean and six sigma most definitely help with question #1. In other words, when we identify problems we can, and should, fix them immediately using the best tool available.
And, I'd also argue, many of the tenets of continuous improvement such as genchi genbutsu, or go and see with your own eyes at the place the work is done, will help with question #2.
Was Steve Jobs a Lean Thinker?
You see, while Steve Jobs didn't technically use lean or six sigma to bring the world the iPod… I'd argue he was constantly focused on solving problems and adding value to his customers (often before they even knew they 'wanted' it).
I suppose it's possible that Steve Jobs understood these two aspects of authentic continuous improvement better than most… of course he could have used some help on the whole respect for people pillar of continuous improvement!
So, yes, I believe both the tools and tenets of continuous improvement can most definitely enable companies to improve and innovate. You don't have to choose!
Do You Agree?
Do you agree? Do you believe authentic continuous can help companies innovate so long as they focus on solving the right problems and adding value to their customers?
Or, do you think continuous improvement and innovation are two totally different animals that simply can't co-exist?